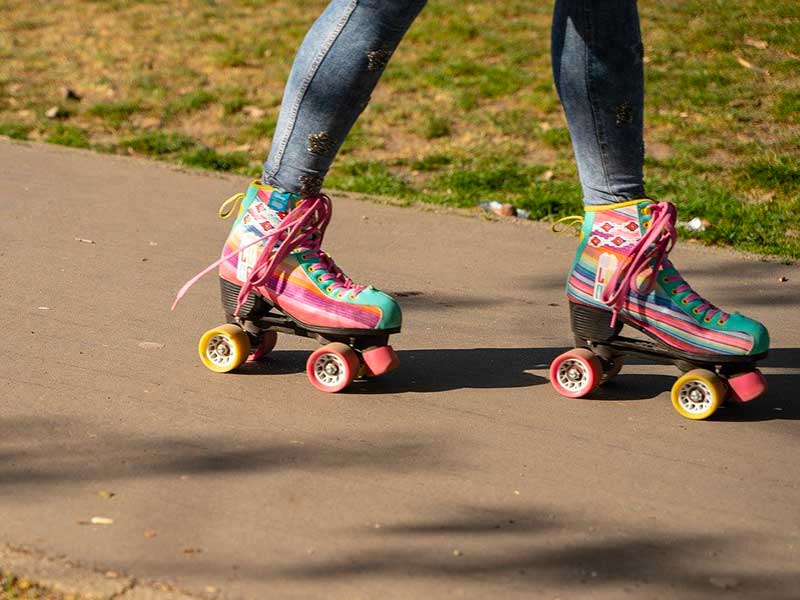 4 Ideas to help ensure you keep your 
roller skating revolutions in the new year
It's remarkably easy to make New Year's resolutions, but if you're like most of us, it's pretty tough to actually keep them. By February or March, most of the world has left those resolutions in the dust, like the Beanie Babies we used to collect thinking they'd one day be worth more than the material they were made with.
If you are wanting to stand fast on your resolutions in 2022, keep reading. I've crafted a whole list of ideas to help ensure you'll be rolling well through December!
Get Clear
When setting goals about roller skating or anything else really, it's important that they are clear and concise. Not being specific about what you want to accomplish is the clearest path to nowhere.
What are you wanting to accomplish in 2022?
Maybe you want to learn some new tricks on your roller skates, try your hand at park skating, or get more comfortable skating backward. Whatever your goals are, be sure that you spend the time to really map them out and plan a clear path to accomplish those goals.
Example resolution ideas to get you started:
Good: Roller skate more in the new year.
Better: Roller skate at least once a week in the new year.
Good: Learn a new skating move every month in 2022.
Better: Learn how to "dribble" in January and do the "snake walk" in February (and so on, and so forth).
Set your Goals Appropriately
I'm all for setting your standards and goals sky-high, but sometimes we can get away with ourselves and dream just a little bit higher than what is realistically possible. Once you've set your New Year's resolution, take some time to think about what all will go into that resolution and if it's reasonable for you.
For example, I set a goal a few years ago to skate every single day of that year, and you know what? I had failed at that goal by week #2. I am someone who skates several times a week, but the goal of skating daily wasn't realistic for me and my schedule. Had I taken the time to really think about this New Year's resolution before deciding on it, I would have considered my already busy schedule and erred on the side of a more conservative goal.
Reward Yourself Frequently
Roller skaters tend to fall a lot, literally. Because of this, it's wicked important to celebrate all of the small stuff.
Did you skate backwards for 30 seconds without toppling over? CONGRATS!
Did you scoot around the roller rink for two whole laps on the beat of the music? SWEETNESS!
No matter how seemingly small the feat is, it's important to keep motivated and that's where rewards come in. Reward yourself with some
new skates
, lunch at your favorite restaurant, or a trip to the movies. Whatever floats your boat. These small prizes can be just the fuel you'll need to keep focused on your roller skating resolution through all of 2022.
Track Your Progress
As exciting as it is to land a new trick at the roller rink, it's even more exciting to be able to show the people you adore. Be sure to video your progress frequently when you skate.
It may seem silly now, but record a video the very first time that you ever try a trick and then video again when you nail it. Regardless of the amount of time it may have taken you to accomplish that trick, it'll be exciting to be able to see your progress. These endorphins may be just the kick you need to keep your roller skating resolutions.
A year is a long time to keep that motivation that you feel after that crystal ball is dropped in New York City, but having a clear attainable goal is the first step to keeping your resolutions. Be sure to reward yourself frequently and track your progress throughout the year!