Renowned Tattoo Studio
Carribbean Connection launched a professional tattoo and piercing shop in 1995 - the first of its kind in the region. World class art and superb customer service, where customers are always made to feel welcome, have been hallmarks of the business ever since...for three decades.

It has been an honor serve this community over the years. The incredible artists at Carribbean Connection will continue to create beautiful art and provide unmatched customer service.

Carribbean Connection – where self-expression thrives!

Book an Appointment
Connor Small
New to the Carribbean Connection family is, Saint Augustine native, Connor "Conboy" Small. After years climbing a corporate ladder he's had the courage to set out on his next adventure, pursuing a longtime dream of becoming a tattoo artist. Inspired by skate culture, graffiti, rat rods and of course, the tattoo world, Conboy has been groomed for authenticity both in style and character. A natural leader, logical thinker and decisive decision maker, you won't regret trusting Conboy with your next tattoo. ✌️❤️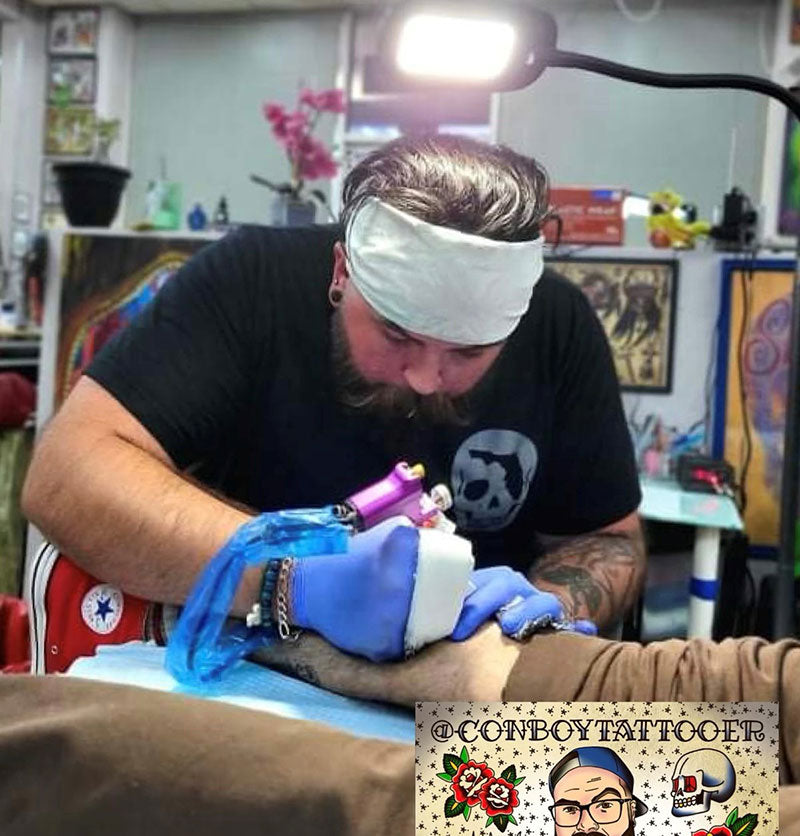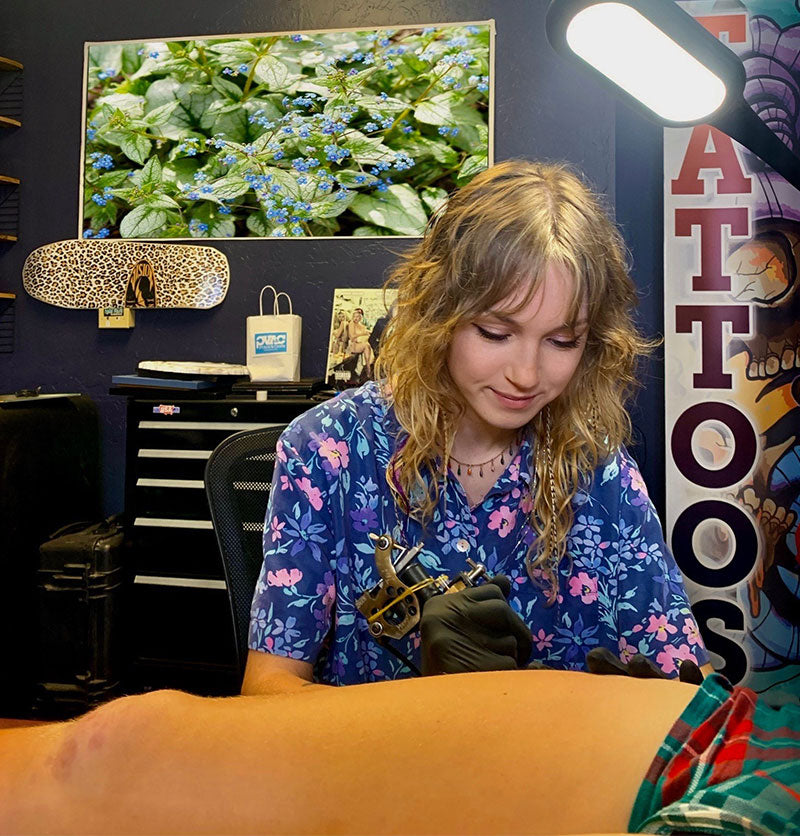 Baile O'Neill
New to the roster of her favorite shop growing up, Carribbean Connection, is Baile O'Neill.  Baile was born and raised in Jax. Beach.  Here are some fun facts she feels you should know: She loves glitter, Crocs, most pastas, Moscow Mules, riding bikes, "a Pirate Looks at Forty" by Jimmy Buffet, sometimes cats, cake, and she is blonde. "I've been sticking myself with needles for as long as I can remember, so I'm super stoked to share the experience!  Come get stuck by me😊 "

– Baile herself
Tattoo Pricing
Each artist has his/her own rates. Tattoos cannot be priced over the phone. If you would like to price a tattoo, you must consult with the artist in person.

Friendly Advice:
If you plan on getting a large tattoo piece, please be sure to plan in advance financially. It is very disheartening for a tattoo artist and the customer to begin a large tattoo piece and not be able to finish it due to poor financial planning. It is best to have a large down payment to put down or to have a plan in place for paying in sessions without having to completely stop in the middle of the process.
Deposits
All scheduled tattoos require a minimum $80 deposit. For larger tattoos or tattoos requiring more time, the deposit amount may be greater (to be determined by the tattoo artist). Walk-ins or same day tattoos do not require a deposit.
Book an Appointment
Customers who call wanting to schedule an appointment for a simple tattoo (small and does not require a lot of drawing) must pay a $60 deposit.
This can be paid online, by credit card over the phone, or in person. A consultation is suggested for larger tattoos or tattoos requiring a lot of drawing time. In this case, the artist would determine the deposit amount. If the customer does not want to pay a deposit, he/she can "walk-in" the day he/she chooses, but there would be no guarantee of time because we are unable to book appointments without a deposit.
Book an Appointment & Pay Deposit
Cancellations and Reschedules
Deposits are non-refundable. Deposits are applied towards the cost of the tattoo. If a customer cancels, does not show or does not give at least 24-hour notice to reschedule, his/her deposit will be forfeited.
Customers must give at least 24-hour notice to reschedule without forfeiting their deposit. Customers can only reschedule twice. After the second reschedule, it is considered a cancellation and the deposit will be forfeited. The customer would have to provide another deposit in order to book another appointment.
Consultations
Our artists are happy to consult with you on the design and placement of your tattoo. Consultations do not require an appointment.
Schedule a Consultation
Minors Policy
The State of Florida requires that all minors be at least 16 years of age to be tattooed. Anyone 16 and 17 years of age must have completed a Tattoo Consent Waiver as well as a Tattoo Notary Form authorized by a certified Notary.

Minors are required to present photo ID with name and date of birth. The minor's parent/legal guardian is also required to show identification. The parent/legal guardian is required to be present during the tattoo.

TATTOO NOTARY FORM
Notary
We now offer in house notary service (Every day 12-5 closed Tue)
• You need to bring an ID for both the minor and the parent or guardian that will be signing the notary form.  This can be a State issued ID, Driver's License, Passport or Birth Certificate.

• There is a $10.00 fee for the Notary Service
Consent Form
A consent form is required for every tattoo service, as well as a valid state ID You can fill out our digital form by clicking the button below. A valid state ID must still be presented at the time of the piercing.
Complete Required Consent Form
Hours & Scheduling
We have a tattoo artist available six days a week.
Our tattoo hours are listed below:
• Monday: 12 pm - 7 pm
• Tuesday: Closed
• Wednesday - Thursday: 12 pm - 7 pm
• Friday - Saturday: 11 am - 8 pm
• Sunday: 12 pm - 7 pm
Walk-ins are welcomed; however, it is best to call or schedule a consultation online because our artists may be booked. When scheduling an appointment, please give a general description of your tattoo design, the location of where you want the tattoo, your name and a phone number where you can be reached.
If you are unsure of the design and would like to talk with a tattoo artist before scheduling an appointment, we encourage you to come in for a consultation. Appointments are not necessary for a consultation.
Schedule a Consultation
Tipping
Tipping is not required but greatly appreciated by the artists.
Tattoo Styles
Styles are not fixed. They are simply guidelines that help us organize visual cues into categories. They change according to our needs and they change across time. Also worth noting is that many of the below styles can be mixed and matched –you may want a floral tattoo in the geometric style, or perhaps a combination of tribal and lettering. The possibilities are endless.
Common Styles:
American Traditional  |  Neo Traditional  |  New School  | Japanese  |  Realism |  Geometric  |  Dot Work  | Illustrative  |  Sketch |  Anime  | Bio-Mechanical/Bio-Organic  |  Minimalism |   Surrealism   | Psychedelic   |  Watercolor |  Lettering  | Tribal  |  Portrait  |  Coverup  | Chicano  |  Pinup |  Comics  |  Artfusion  | Ornamental  |  Floral |  Trash Polka  | Trashy  |  Mandala |  Black & Grey  | Sailor  |  Prison |  Mafia  | 3D  |  Religious  |  Horror
View Tattoo Style Visual Guide
Tattoo Aftercare
Tattoo aftercare is vital to the healing process and the end result of your tattoo. Take a look at our handy aftercare guide for detailed instructions on the dos and don'ts.
Aftercare Instructions
Gift Certificates
Gift Certificates are available for tattoo services. A truly special gift to a lover of tattoos.