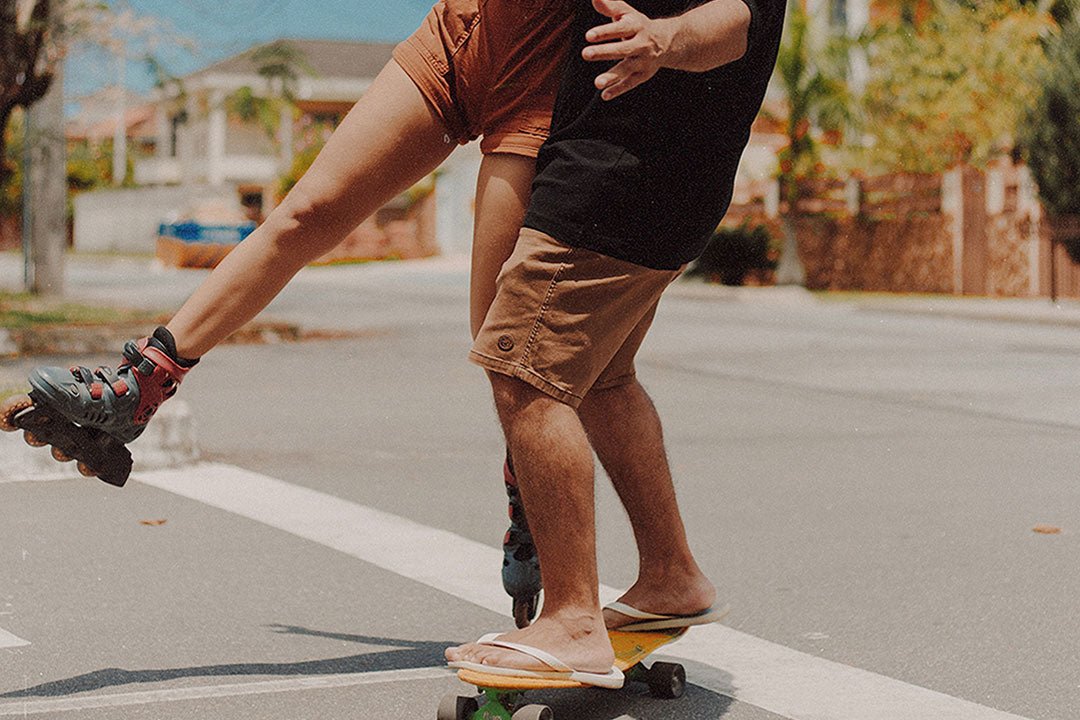 With February overflowing with romantic gestures and newfound connections, it only makes sense that this month's blog would be focused on couples. Now when I say couples, I'm not only referring to romantic partners, but friends too! 
These date ideas will work well for anyone who likes wheels (roller skaters, skate boarders, inliners, scooter riders, bicylists - you name it). And don't worry if you haven't been saving your pennies in preparation for a hot date. Some of these ideas will require a bit of movement in your wallet, but others won't cost you a cent. 
Try out these ideas with your crush, significant other or your bestie.
Date Idea #1: Spoil That Special Someone 
If your love language involves giving or receiving gifts, this one is for you. Scoop your favorite human and take them to Carribbean Connection to pick out a little something that floats their boat.
The store is stocked with comfortable and trendy socks, shirts and bags that are sure to make your valentine smile. Not to mention, letting someone else pick out their gift is the only way to know for sure that it's absolutely perfect. Don't miss the roller skating and roller blading section - it's packed with tons of different styles and sizes of skates and we have protective gear too. 
If your budget is a bit tight, consider letting your better half know that they can pick out anything they want under [insert dollar amount here]. This way their expectations are set in advance and they'll be able to shop within your budget.
Date Idea #2: Roll in For a Bite
It doesn't matter what kind of wheels you prefer, First Street in Jacksonville Beach is perfection. Multi-million dollar mansions line both sides of the smooth pavement, not to mention it runs parallel with the Atlantic Ocean, making the entire ride a movie-quality experience.
Skating, biking or scootering down First Street is a great low-key date idea for anyone looking for some fresh air and exercise. If you get hungry, consider skating up to one of the many restaurants for a bite. The new Margaritaville Resort, for example, has a large restaurant with an outdoor patio facing the ocean, AND they'll let you skate right up to the bar and order food. Adding some carbs or a cocktail to your date night will help ensure that it goes on longer *wink* and also gives you some time to catch your breath and have a conversation.
Date Idea #3: Photos, Please! 
This one would be extra special for a date night with your besties, but will work for you romantics out there too. Pick out your cutest roller skating outfits and book a local photographer (like @sarahcebulskiphotography) to take some fun pictures! If you're wallet is feeling extra light this month, skip the professional photographer and take the pictures yourself.
If you've been on IG lately, you know that skating photoshoots are blowing up and why wouldn't they? Roller skates are a killer accessory and give you an excuse to put on some bell bottoms or your favorite 80's attire. These pictures will not only make a fun memory with you and your date, but you'll have the images to look at for years to come. 
You were taking notes on these date ideas, right? If you end up using any be sure to tag us at @carribbeanconnection. We're just here, helping you make memories happen <3